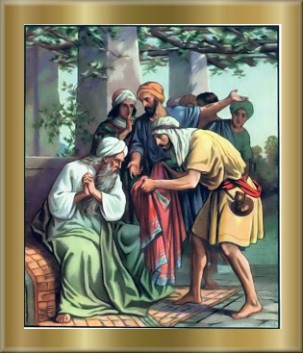 Coat Of Joseph
But even this affection was to become a cause of trouble and sorrow. Jacob unwisely manifested his preference for Joseph, and this excited the jealousy of his other sons. As Joseph witnessed the evil conduct of his brothers, he was greatly troubled; he ventured gently to remonstrate with them, but only aroused still further their hatred and resentment. He could not endure to see them sinning against God, and he laid the matter before his father, hoping that his authority might lead them to reform.
The father's injudicious gift to Joseph of a costly coat, or tunic, such as was usually worn by persons of distinction, seemed to them another evidence of his partiality, and excited a suspicion that he intended to pass by his elder children, to bestow the birthright upon the son of Rachel. Their malice was still further increased as the boy one day told them of a dream that he had had. "Behold," he said, "we were binding sheaves in the field, and, lo, my sheaf arose, and also stood upright; and, behold, your sheaves stood round about, and made obeisance to my sheaf."
With a joyful heart, Joseph parted from his father, neither the aged man nor the youth dreaming of what would happen before they should meet again. When, after his long and solitary journey, Joseph arrived at Shechem, his brothers and their flocks were not to be found. Upon inquiring for them, he was directed to Dothan. He had already traveled more than fifty miles, and now an additional distance of fifteen lay before him, but he hastened on, forgetting his weariness in the thought of relieving the anxiety of his father, and meeting the brothers, whom, despite their unkindness, he still loved.
His brothers saw him approaching; but no thought of the long journey he had made to meet them, of his weariness and hunger, of his claims upon their hospitality and brotherly love, softened the bitterness of their hatred. The sight of the coat, the token of their father's love, filled them with frenzy. "Behold, this dreamer cometh," they cried in mockery. Envy and revenge, long secretly cherished, now controlled them. "Let us slay him," they said, "and cast him into some pit, and we will say, Some evil beast hath devoured him; and we shall see what will become of his dreams."
They would have executed their purpose but for Reuben. He shrank from participating in the murder of his brother, and proposed that Joseph be cast alive into a pit, and left there to perish; secretly intending, however, to rescue him and return him to his father. Having persuaded all to consent to this plan, Reuben left the company, fearing that he might fail to control his feelings, and that his real intentions would be discovered.
Joseph came on, unsuspicious of danger, and glad that the object of his long search was accomplished; but instead of the expected greeting, he was terrified by the angry and revengeful glances which he met. He was seized and his coat stripped from him. Taunts and threats revealed a deadly purpose. His entreaties were unheeded. He was wholly in the power of those maddened men. Rudely dragging him to a deep pit, they thrust him in, and having made sure that there was no possibility of his escape, they left him there to perish from hunger, while they "sat down to eat bread."
But some of them were ill at ease; they did not feel the satisfaction they had anticipated from their revenge. Soon a company of travelers was seen approaching. It was a caravan of Ishmaelites from beyond Jordan, on their way to Egypt with spices and other merchandise. Judah now proposed to sell their brother to these heathen traders instead of leaving him to die. While he would be effectually put out of their way, they would remain clear of his blood; "for," he urged, "he is our brother and our flesh." To this proposition all agreed, and Joseph was quickly drawn out of the pit.
As he saw the merchants the dreadful truth flashed upon him. To become a slave was a fate more to be feared than death. In an agony of terror he appealed to one and another of his brothers, but in vain. Some were moved with pity, but fear of derision kept them silent; all felt that they had now gone too far to retreat. If Joseph were spared, he would doubtless report them to the father, who would not overlook their cruelty toward his favorite son. Steeling their hearts against his entreaties, they delivered him into the hands of the heathen traders. The caravan moved on, and was soon lost to view.
Patriarchs and Prophets
P 209-211
-------------------------------
Reuben returned to the pit, but Joseph was not there. In alarm and self-reproach he rent his garments, and sought his brothers, exclaiming, "The child is not; and I, whither shall I go?" Upon learning the fate of Joseph, and that it would now be impossible to recover him, Reuben was induced to unite with the rest in the attempt to conceal their guilt. Having killed a kid, they dipped Joseph's coat in its blood, and took it to their father, telling him that they had found it in the fields, and that they feared it was their brother's. "Know now," they said, "whether it be thy son's coat or no." They had looked forward to this scene with dread, but they were not prepared for the heart-rending anguish, the utter abandonment of grief, which they were compelled to witness. "It is my son's coat," said Jacob; "an evil beast hath devoured him. Joseph is without doubt rent in pieces." Vainly his sons and daughters attempted to comfort him. He "rent his clothes, and put sackcloth upon his loins, and mourned for his son many days." Time seemed to bring no alleviation of his grief. "I will go down into the grave unto my son mourning," was his despairing cry. The young men, terrified at what they had done, yet dreading their father's reproaches, still hid in their own hearts the knowledge of their guilt, which even to themselves seemed very great.
Patriarchs and Prophets
P 212