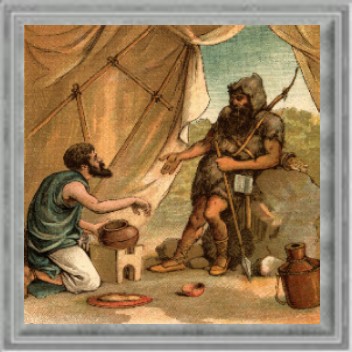 Jacob and Esau
And Rebekah spake unto Jacob her son, saying, Behold, I heard thy father speak unto Esau thy brother, saying,
Bring me venison, and make me savoury meat, that I mayeat, and bless thee before the LORD before my death.
Now therefore, my son, obey my voice according to that which I command thee.
Go now to the flock, and fetch me from thence two good kids of the goats; and I will make them savoury meat for thy father, such as he loveth:
And thou shalt bring it to thy father, that he may eat, and that he may bless thee before his death.
And Jacob said to Rebekah his mother, Behold, Esau my brother is a hairy man, and I am a smooth man:
My father peradventure will feel me, and I shall seem to him as a deceiver; and I shall bring a curse upon me, and not a blessing.
And his mother said unto him, Upon me be thy curse, my son: only obey my voice, and go fetch me them.
And he went, and fetched, and brought them to his mother: and his mother made savoury meat, such as his father loved.
And Rebekah took goodly raiment of her eldest son Esau, which were with her in the house, and put them upon Jacob her younger son:
And she put the skins of the kids of the goats upon his hands, and upon the smooth of his neck:
And she gave the savoury meat and the bread, which she had prepared, into the hand of her son Jacob.
And he came unto his father, and said, My father: and he said, Here am I; who art thou, my son?
And Jacob said unto his father, I am Esau thy firstborn; I have done according as thou badest me: arise, I pray thee, sit and eat of my venison, that thy soul may bless me.
And Isaac said unto his son, How is it that thou hast found it so quickly, my son? And he said, Because the LORD thy God brought it to me.
And Isaac said unto Jacob, Come near, I pray thee, that I may feel thee, my son, whether thou be my very son Esau or not.
And Jacob went near unto Isaac his father; and he felt him, and said, The voice is Jacob's voice, but the hands are the hands of Esau.
And he discerned him not, because his hands were hairy, as his brother Esau's hands: so he blessed him.
Genesis 27:6-23
-------------------------------------------------
No sooner had Esau departed on his errand than Rebekah set about the accomplishment of her purpose. She told Jacob what had taken place, urging the necessity of immediate action to prevent the bestowal of the blessing, finally and irrevocably, upon Esau. And she assured her son that if he would follow her directions, he might obtain it as God had promised. Jacob did not readily consent to the plan that she proposed. The thought of deceiving his father caused him great distress. He felt that such a sin would bring a curse rather than a blessing. But his scruples were overborne, and he proceeded to carry out his mother's suggestions. It was not his intention to utter a direct falsehood, but once in the presence of his father he seemed to have gone too far to retreat, and he obtained by fraud the coveted blessing.
……From the hour when he received the birthright, Jacob was weighed down with self-condemnation. He had sinned against his father, his brother, his own soul, and against God. In one short hour he had made work for a lifelong repentance. This scene was vivid before him in afteryears, when the wicked course of his sons oppressed his soul.
P P 180
-------------------------------------------------
Rebekah was acquainted with Isaac's partiality for Esau, and was satisfied that reasoning would not change his purpose. Instead of trusting in God, the disposer of events, she manifested her lack of faith by persuading Jacob to deceive his father. Jacob's course in this was not approbated by God. Rebekah and Jacob should have waited for God to bring about his own purposes, in his own way, and in his own time, instead of trying to bring about the foretold events by the aid of deception. If Esau had received the blessing of his father, which was bestowed upon the first-born, his prosperity could have come from God alone; and he would have blessed him with prosperity, or brought upon him adversity, according to his course of action. If he should love and reverence God, like righteous Abel, he would be accepted and blessed of God. If like wicked Cain he had no respect for God, nor for his commandments, but followed his own corrupt course, he would not receive a blessing from God, but would be rejected of God, as was Cain. If Jacob's course should be righteous, if he should love and fear God, he would be blessed of God, and the prospering hand of God would be with him, even if he did not obtain the blessings and privileges generally bestowed upon the first-born.
Rebekah repented in bitterness for the wrong counsel which she gave to Jacob, for it was the means of separating him from her forever. He was compelled to flee for his life from the wrath of Esau, and his mother never saw his face again. Isaac lived many years after he gave Jacob the blessing, and was convinced, by the course of Esau and Jacob, that the blessing rightly belonged to Jacob.
The circumstances of Esau's selling his birthright represent the unrighteous, who consider the redemption purchased for them by Christ of little value, and sacrifice their heirship to Heaven for perishable treasures. Many are controlled by their appetite, and rather than to deny an unhealthy appetite, will sacrifice high and valuable considerations. If one must be yielded, the gratification of a depraved appetite, or the high and heavenly blessings which God promises only to the self-denying and God-fearing, the clamors of appetite, as in the case of Esau, will generally prevail, and for self-gratification, God and Heaven will be virtually despised. Even professed Christians will use tea, coffee, snuff, tobacco and spirits, all of which benumb the finer sensibilities of the soul. If you tell them they cannot have Heaven, and these hurtful indulgences, and that they should deny their appetites, and cleanse themselves from all filthiness of the flesh and spirit, perfecting holiness in the fear of the Lord, they are offended, look sorrowful, and conclude that if the way is so strait that they cannot indulge in their gross appetites, they will not walk any longer in it.
S P Volume One P 107,108