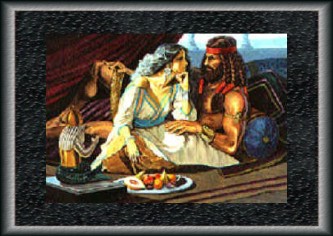 Samson
The divine promise to Manoah was in due time fulfilled in the birth of a son, to whom the name of Samson was given. As the boy grew up it became evident that he possessed extraordinary physical strength. This was not, however, as Samson and his parents well knew, dependent upon his well-knit sinews, but upon his condition as a Nazarite, of which his unshorn hair was a symbol. Had Samson obeyed the divine commands as faithfully as his parents had done, his would have been a nobler and happier destiny. But association with idolaters corrupted him. The town of Zorah being near the country of the Philistines, Samson came to mingle with them on friendly terms. Thus in his youth intimacies sprang up, the influence of which darkened his whole life. A young woman dwelling in the Philistine town of Timnath engaged Samson's affections, and he determined to make her his wife. To his God-fearing parents, who endeavored to dissuade him from his purpose, his only answer was, "She pleaseth me well." The parents at last yielded to his wishes, and the marriagetook place.
…..To all who seek first to honor Him, God has promised wisdom; but there is no promise to those who are bent upon self-pleasing…...
……The wife, to obtain whom Samson had transgressed the command of God, proved treacherous to her husband before the close of the marriage feast. Incensed at her perfidy, Samson forsook her for the time, and went alone to his home at Zorah. When, afterward relenting, he returned for his bride, he found her the wife of another. His revenge, in the wasting of all the fields and vineyards of the Philistines, provoked them to murder her, although their threats had driven her to the deceit with which the trouble began. Samson had already given evidence of his marvelous strength by slaying, single handed, a young lion, and by killing thirty of the men of Askelon. Now, moved to anger by the barbarous murder of his wife, he attacked the Philistines and smote them "with a great slaughter." Then, wishing a safe retreat from his enemies, he withdrew to "the rock Etam," in the tribe of Judah……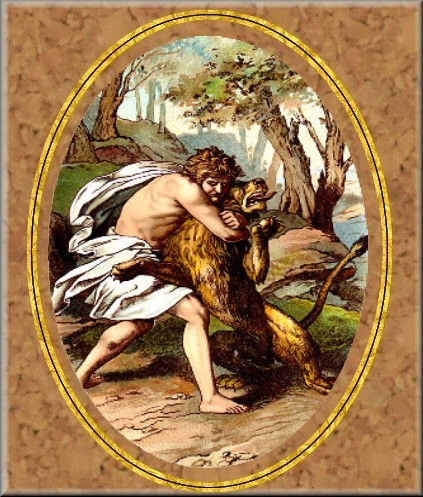 After his victory the Israelites made Samson judge, and he ruled Israel for twenty years. But one wrong step prepares the way for another. Samson had transgressed the command of God by taking a wife from the Philistines, and again he ventured among them-- now his deadly enemies--in the indulgence of unlawful passion. Trusting to his great strength, which had inspired the Philistines with such terror, he went boldly to Gaza, to visit a harlot of that place. The inhabitants of the city learned of his presence, and they were eager for revenge. Their enemy was shut safely within the walls of the most strongly fortified of all their cities; they felt sure of their prey, and only waited till the morning to complete their triumph. At midnight Samson was aroused. The accusing voice of conscience filled him with remorse, as he remembered that he had broken his vow as a Nazarite. But notwithstanding his sin, God's mercy had not forsaken him. His prodigious strength again served to deliver him. Going to the city gate, he wrenched it from its place and carried it, with its posts and bars, to the top of a hill on the way to Hebron.
But even this narrow escape did not stay his evil course. He did not again venture among the Philistines, but he continued to seek those sensuous pleasures that were luring him to ruin. "He loved a woman in the valley of Sorek," not far from his own birthplace. Her name was Delilah, "the consumer." The vale of Sorek was celebrated for its vineyards; these also had a temptation for the wavering Nazarite, who had already indulged in the use of wine, thus breaking another tie that bound him to purity and to God. The Philistines kept a vigilant watch over the movements of their enemy, and when he degraded himself by this new attachment, they determined, through Delilah, to accomplish his ruin.
A deputation consisting of one leading man from each of the Philistine provinces was sent to the vale of Sorek. They dared not attempt to seize him while in possession of his great strength, but it was their purpose to learn, if possible, the secret of his power. They therefore bribed Delilah to discover and reveal it.
As the betrayer plied Samson with her questions, he deceived her by declaring that the weakness of other men would come upon him if certain processes were tried. When she put the matter to the test, the cheat was discovered. Then she accused him of falsehood, saying, "How canst thou say, I love thee, when thine heart is not with me? Thou hast mocked me these three times, and hast not told me wherein thy great strength lieth." Three times Samson had the clearest evidence that the Philistines had leagued with his charmer to destroy him; but when her purpose failed, she treated the matter as a jest, and he blindly banished fear.
Day by day Delilah urged him, until "his soul was vexed unto death;" yet a subtle power kept him by her side. Overcome at last, Samson made known the secret: "There hath not come a razor upon mine head; for I have been a Nazarite unto God from my mother's womb: if I be shaven, then my strength will go from me, and I shall become weak, and be like any other man." A messenger was immediately dispatched to the lords of the Philistines, urging them to come to her without delay. While the warrior slept, the heavy masses of his hair were severed from his head. Then, as she had done three times before, she called, "The Philistines be upon thee, Samson!" Suddenly awaking, he thought to exert his strength as before and destroy them; but his powerless arms refused to do his bidding, and he knew that "Jehovah was departed from him." When he had been shaven, Delilah began to annoy him and cause him pain, thus making a trial of his strength; for the Philistines dared not approach him till fully convinced that his power was gone. Then they seized him and, having put out both his eyes, they took him to Gaza. Here he was bound with fetters in their prison house and confined to hard labor.
What a change to him who had been the judge and champion of Israel!--now weak, blind, imprisoned, degraded to the most menial service! Little by little he had violated the conditions of his sacred calling. God had borne long with him; but when he had so yielded himself to the power of sin as to betray his secret, the Lord departed from him. There was no virtue in his long hair merely, but it was a token of his loyalty to God; and when the symbol was sacrificed in the indulgence of passion, the blessings of which it was a token were also forfeited.
P P 562-566