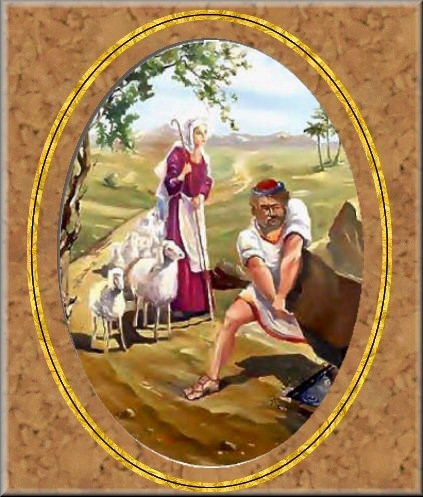 Laban
And Jacob loved Rachel; and said, I will serve thee seven years for Rachel thy younger daughter.
And Laban said, It is better that I give her to thee, than that I should give her to another man: abide with me.
And Jacob served seven years for Rachel; and they seemed unto him but a few days, for the love he had to her.
And Jacob said unto Laban, Give me my wife, for my days are fulfilled, that I may go in unto her.
And Laban gathered together all the men of the place, and made a feast.
And it came to pass in the evening, that he took Leah his daughter, and brought her to him; and he went in unto her.
And it came to pass, that in the morning, behold, it was Leah: and he said to Laban, What is this thou hast done unto me? did not I serve with thee for Rachel? wherefore then hast thou beguiled me?
And Laban said, It must not be so done in our country, to give the younger before the firstborn.
Fulfil her week, and we will give thee this also for the service which thou shalt serve with me yet seven other years.
And Jacob did so, and fulfilled her week: and he gave him Rachel his daughter to wife also.
Genesis 29:18-28
-------------------------------------------------
Seven years of faithful service Jacob gave for Rachel, and the years that he served "seemed unto him but a few days, for the love he had to her." But the selfish and grasping Laban, desiring to retain so valuable a helper, practiced a cruel deception in substituting Leah for Rachel. The fact that Leah herself was a party to the cheat, caused Jacob to feel that he could not love her. His indignant rebuke to Laban was met with the offer of Rachel for another seven years' service. But the father insisted that Leah should not be discarded, since this would bring disgrace upon the family. Jacob was thus placed in a most painful and trying position; he finally decided to retain Leah and marry Rachel. Rachel was ever the one best loved; but his preference for her excited envy and jealousy, and his life was embittered by the rivalry between the sister-wives.
P P 189