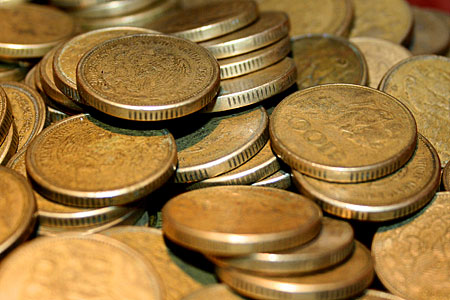 Money
The love of money is the root of all evil." Some who profess the truth do not withstand temptation on this point. Among worldlings in this generation the greatest crimes are perpetrated through the love of money. If wealth cannot be secured by honest industry, men will resort to fraud, deception, and crime in order to obtain it. The cup of iniquity is nearly filled, and the retributive justice of God is about to descend upon the guilty. Widows are robbed of their scanty pittance by lawyers and professedly interested friends, and poor men are made to suffer for the necessaries of life because of the dishonesty which is practiced in order to gratify extravagance. The terrible record of crime in our world is enough to chill the blood and fill the soul with horror; but the fact that even among those who profess to believe the truth the same evils are creeping in, the same sins indulged to a greater or less degree, calls for deep humiliation of soul.
4T P 489
-------------------------------------------------------
Ananias and Sapphira wished to be regarded as giving all, and yet keep part. In order to do this, they falsified. Both of them agreed to practice deception, but they did it at the cost of their lives. God struck them both with death. Thus He passed judgment on those who, while His grace and light and power were working, dared to commit sin against the Holy Spirit. This God did to warn the believers against fraud and deception and every species of dishonesty. He knew that doors of temptation would open before those who were bringing in of their means to sustain His cause. He knew that those not under the control of His Spirit would be tempted to work as they had done before they were brought under gospel principles. Some would think that they were not paid sufficient for their work, and would appropriate money or goods to supply this fancied deficiency. This would bring in untold evil.
M R Volume Thirteen P 188